Lots of things will happen in February 2019. New hardbots await! Also APCs and IFVs along with artillery platforms and tanks. All of that is now on PREORDER with 10% DISCOUNT, so take your time, scroll down and find out all the good stuff! The promotion lasts till 7th of February and you can get an option for free shipping for purchase over $60.
First, we want to present to you our newest 6mm range war beast.
Kaiju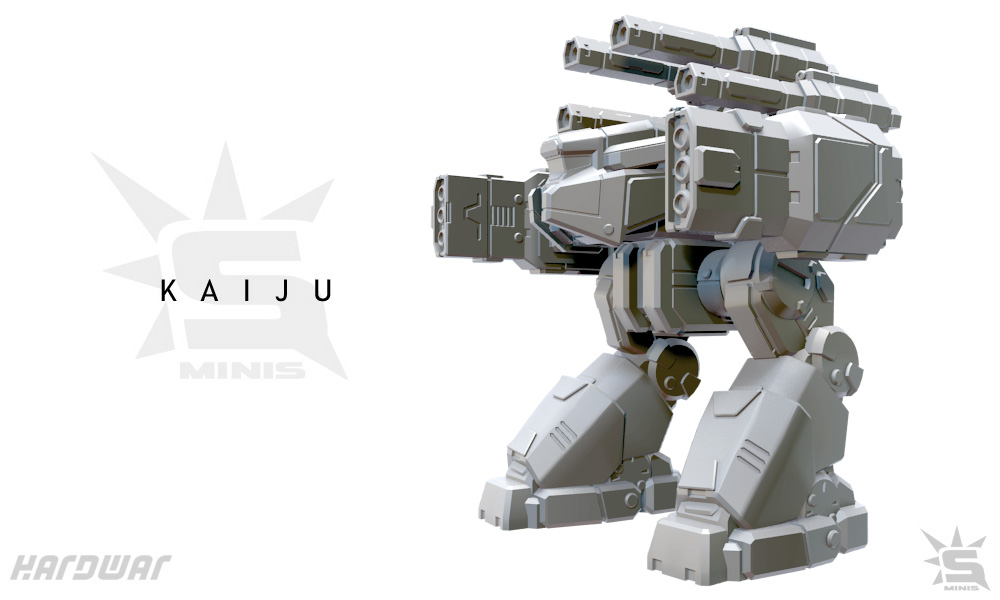 This one is a real monster! Super heavy hardbot, designed for one purpose – massive destruction. Kaiju is equipped with super heavy armor and super heavy weapons that can hit at very long distances. There is no need for more arguments to convince yourself to acquire this beast.
You can also find a upgrade Weapons Pack, to make your Kaiju even more awesome!
Assegai
This Heavy hardbot is equipped with an enormous load of long-range missiles and also armed with heavy laser projectors. Assegai can hit any target on ranges most units never reach. Overall, what you see here is a perfect solution for your mobile forces to keep enemies at bay.
Kriegshammer Upgrade
Our bestseller, Kriegshammer just got updated and has more options, so you can remove right missile launcher. What more, from now additional Weapons Pack is available for purchase.
---
---
Now is time for some rolling action. Tanks, APCs, IFVs and MAVs, all new and shiny!
Deimos Heavy Tank
This is a real monster, 95 tons of raging steel armed with eight medium energy projectors. If that is not enough Deimos spreads fear among enemies with two heavy, long-range missile racks that provide covering fire when assaulting or moving to a new position. This unit is an ultimate battlefield solution for your army.
Montgomery Medium Tank
Montogomery is a versatile and multipurpose unit, 65 tons in weight, equipped with a wide range of different weapons. The main gun is, proved in many battles, 188mm cannon. In addition, Montgomery carries light laser support, along with the main gun. For longer distances, a missile launcher rack is ready for action.
Falconer & Marksman MAV
Mobile Artillery Vehicles use a swift platform, that could be used as a light tank, but instead of the standard tank turret, MAVs carry some serious armaments. As you can see, Falconer and Marksman can deliver heavy damage to the targets located far beyond the reach of an ordinary armored vehicle.
Falconer carries a full load of long-range missiles that can be fired in massive, multi-projectile salvos. Marksman, on the other hand, is a perfect weapon platform for precision attacks thanks to a gauss cannon.
---
---
Hound RV
Hound Recon Vehicle is a fast and agile raider dedicated to quick scouting missions. Equipped with a light laser turret, this unit may not be the best solution for direct attacks but this armament fits defensive purposes.
---
Armadillo IFV
Armadillo IFV is a versatile tracked, armored transporter, with an option of carrying different sets of weapons. Where Boar APC is not enough on a battlefield, Armadillo will take over and deliver infantry forces safe and sound. This IFV is being presented with new armament additions like ECM System and long-range missile rig.
Boar APC
Boar is a standard issue APC unit used mostly as a scout and infantry support. As Armadillo this unit is versatile and comes with many armament options. Two new are now available: Heavy Assault and ECM.
---
And that's all for February 2019! Remember, preorders last till 7th of February, and orders processing will start after 14th of February. Grab your gear and send your enemies to dust with our war beasts!