Our 6mm range will expand soon, and new units will enter our stock. We hope our IFVs and MAVs will join your victorious armored forces. Stay for a while and take a look at Falconer and Marksman our approach to Mobile Artillery Vehicles or at Armadillo, a perfect IFV with multiple armament options.
MAV Falconer & Marksman

Mobile Artillery Vehicles use a swift platform, that could be used as a light tank, but instead of the standard tank turret, MAVs carry some serious armaments. As you can see, Falconer and Marksman can deliver heavy damage to the targets located far beyond the reach of an ordinary armored vehicle.
Falconer carries a full load of long-range missiles that can be fired in a massive, multi-projectile salvos. Marksman, on the other hand, is a perfect weapon platform for precision attacks thanks to a gauss cannon.
Armadillo Sentry & Heavy Assault

Armadillo IFV is a versatile tracked, armored transporter, with an option of carrying different sets of weapons. Where Boar APC is not enough on battlefield, Armadillo will take over and deliver infantry forces safe and sound. This IFV is being presented with new armament additions like ECM System and long-range missile rig.
All units in Boar and Armadillo product lines share the same turret mount, so all of them will be available in four different configurations.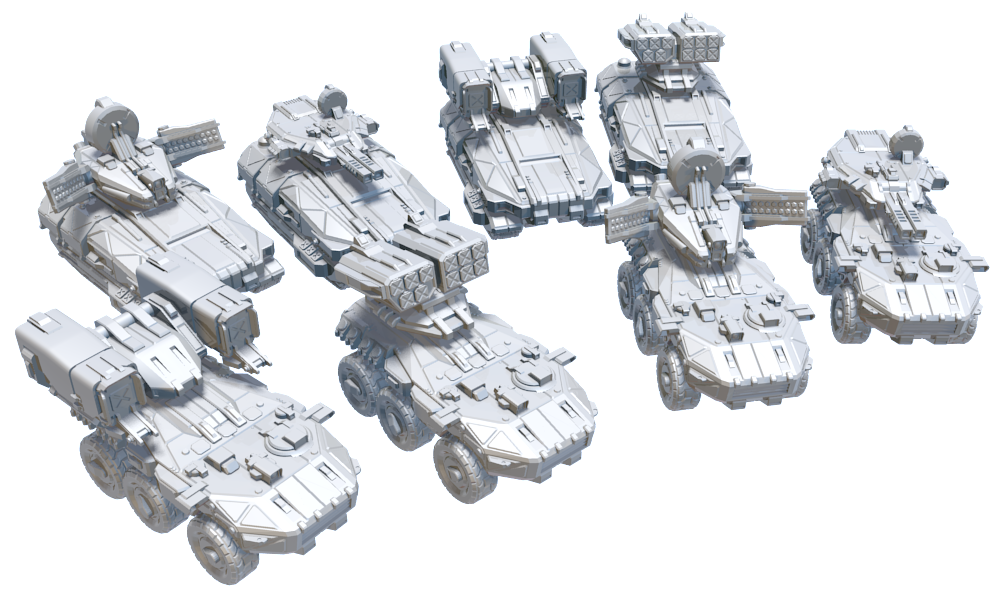 But that's not all. We are still in the development of new units and new models. Not only walking, wheeled or tracked but beyond boundaries of gravity. We are so thrilled to bring your gaming experience to the next level. Stay tuned!
---
Check out our Instagram account to follow us there. All the new stuff will go there every time when our Gallery gets updated. Don't forget to sign up for our Newsletter.