Description
Real monster! This is a super heavy hardbot, designed for one purpose – massive destruction. Kaiju is equipped with super heavy armour and super heavy weapons that can hit very long distances. There is no need for more arguments to convince yourself to acquire this beast.
The model is based on Bishop Steiner's artwork. The mini is resin cast in a 6mm scale and consists of ten parts that need assembling.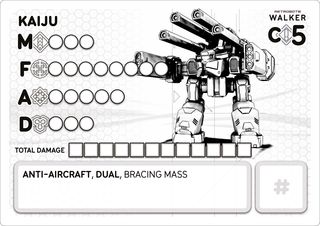 The card image is prepared to be printed on a standard printer.
Image size is 3,5″ x 2,5″ / 89mm x 63mm (600DPI) when printed in 1:1 scale.