Are you a 3D artist? Do you like science fiction wargaming? Are you turning your sculpts into 3D printed minis with hopes of selling prints? Read this!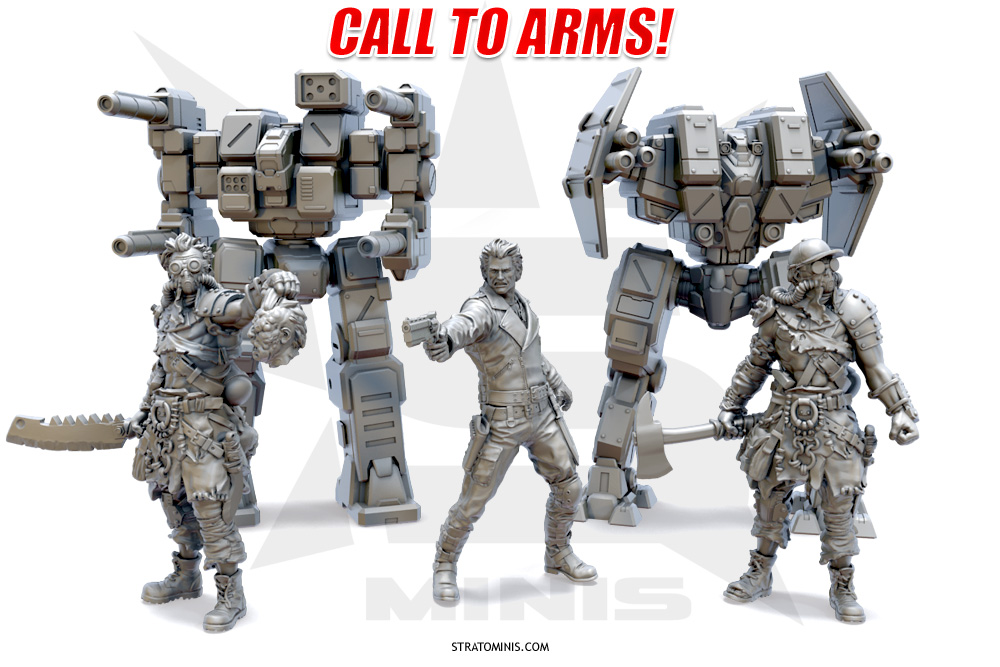 Recently, thanks to 3D printing revolution we see great rise in hobby 3D modelers, trying to go pro, starting their own lines of miniatures, and some of them are truly amazing! Sadly, many of those micro-workshops vanish faster than they appear, defeated by Real Life, lack of recognition, low-end equipment and resulting in lesser quality, or, most common, lack of time to spare on all aspects of running one-man/gal-boutique for minis.
There are also digital sculptors who make masterpieces during breaks in their contracts, or just straight to drawer/portfolio, to be never seen in physical format.
Some are using crowd-funding platforms, boldly facing dangers of not delivering promised goods.
There are also those who use 3rd party (3D)Print-On-Demand services, with high fees and costs to end customer, constant changes of terms ad conditions, and other difficulties limiting buyers base.
There are also those who selflessly share their sculpts for free through various 3D repositories, as they have no other means to reach wide public.

What if that could change?
What if you could have your models professionally made into miniatures, would not have to care about production, shipping logistics, marketing, and customer base, having it all at a lower cost and better quality, while you still get fair profit out of it?
Sounds interesting?
Good news, Strato Minis Studio is opening new department, dedicated to promote and publish 3D artwork in the form of resin miniatures! And you can get on board without any financial investment to start!
What do we offer?
Preparation of raw 3D sculpt for 3D printing,
Advice and optimization strategies
3D print of master on an industrial-grade supportless 3D printer,
production of silicone moulds,
Resin casting production,
POS in our online store,
Realistic sales price,
Marketing and active sales through our media,
Large base of returning customers,
Shipping and handling of cast miniatures,
Post-sales and customer support,
Transparent and simple, period based commission system,
Flexible and individual approach,
Non-exclusive agreement,
Full credit to both concept author and 3D modeler,
honesty and protection of your copyright,
Guarantee that your 3D assets won't be shared or sold, unless you wish us to,
NDA's, contracts, legal paperwork if needed,
Cost-free entry to the miniature sales world,
Bonus free resin miniature of your sculpt!
Additional freelancing opportunities for our B2B clients
So why not try it? Contact us anytime with questions (button below). But before you do, here are a few guidelines:
Strato Minis Studio store is a well-established provider of sci-fi themed miniatures in wargaming scales of 6 and 15 mm and to a lesser degree of fleet scale spaceships and 28-32 mm sci-fi miniatures. And while we are always open to suggestions about going outside of those self-imposed limits, we may refuse admissions that are too far our comfort zone.
Sci-Fi is quite a capacious term, that may include, but is not limited to sub-genres like rocketpunk, space opera, retro, dieselpunk, post-apocalyptic, cyberpunk, near-future, hard, alien, bio- and nanopunk, alternate and parallel history, etc. And yes, we like them all!
Vehicles, Tanks, Mechs, Aircraft, Spaceships and anything else connected to sci-fi military always get our special attention, so if you have anything to say in that department, show us!
Whole line of minis also gets our special attention, but we will never discard a good single model.
We prefer original designs over another fan sculpt of something being part of some established franchise. In fact, we will not admit anything too close to any popular IP.
When contacting us with inquiry, it would be best if you provide your portfolio (website), renders or screencaps representing full view of model(s) in question, taken from couple of angles, as well as information about author of concept art (if not concepted by the modeler), including contact/webpage. Same goes for the author of the 3D model itself, if not created by you. We want to deal directly with sculptors here, not their representatives or buyers of third party 3D models unless you can prove that you have a commercial license to produce the minis.
We reserve the right to discard submissions without giving specific reasons.
Best way to contact us is through the button below, or, if you prefer, email studio@stratominis.com . Contacting us through our media (FB page, Messenger, Instagram etc) is a less reliable option, at least for initial contact.
Image credits:
Relentless and Phobos mechs commissioned to Strato Minis Studio by Dean Schwichtenberg, concept art by Alan Blackwell, 3D model by Kamil Boruc.
miniatures can be purchased here https://stratominis.com/product-category/others/
3 unnamed post-apocalyptic figures concepted and sculpted by Mariusz Klat, soon in our store.