What is the idea behind our Hex Packs? Why you should consider our mats and hex packs? Simple… Because you will be never stuck to one battlefield again.
Each Hex Pack consists of 36 pieces of three sizes: one hex size, double hexes size, and triple hexes size. Using Woods Pack you will be able to create dense forests or scattered trees groups. With Hills Pack creating mountains, canyons and rock spikes come very easy. Finally, Obstacles Pack gives you the opportunity to create big lakes, or multiple small water areas, even river-like long ones along with rubble and rough terrain areas.
Here are some examples of what could be created. Take a look, and begin the warfare on distant lands!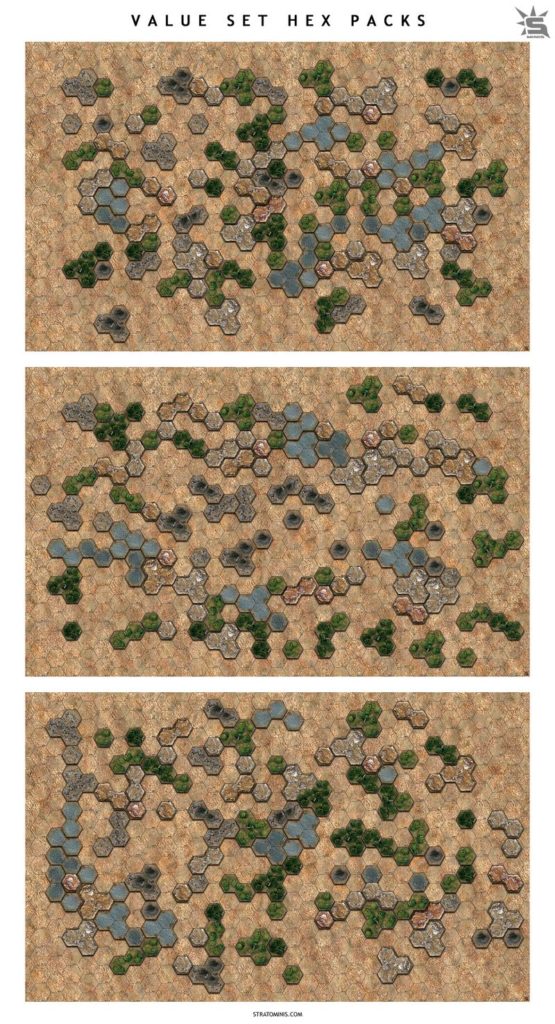 All three Hex Packs, called Value Hex Set, placed on our mat, will give you endless possibilities of battlefields, and your needs and imagination are the only limits.
Right now, there are three mats in Desert, Woodlands, and Winter themes. Hex packs are available in Spring (Standard) and Winter setting.