Description
T-340 Buran Hardbot is a medium war machine, a "little brother" to T-722 Groza. The main goal was to provide swift but well-armoured units able to support battle scout teams. Russian design and durability come along with additional armaments that support typical hardbot modular weaponry. Buran is fully compatible with the Hammer & Anvil Hardbot System, giving a wide spectrum of available weapons. This version is equipped with an autocannon and a laser lance.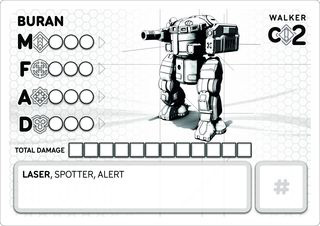 The card image is prepared to be printed on a standard printer.
Image size is 3,5″ x 2,5″ / 89mm x 63mm (600DPI) when printed in 1:1 scale.