Description
The Shí Heavy Tank is the big brother of the Tiě, mounting two cannons in parallel on a beefed-up version of the smaller tank's chassis.  The Shí also benefits from the Tiě's electric engine technology, making it far quicker than most tanks of its size. Shí is the most know heavy tank model offered by Jiuweihu Corporation, known for producing very reliable war vehicles since 2064, battle-proven in many conflicts not only on Earth soil.
The model is based on the original design by Stéphane Chasseloup.
Converted, detailed and optimized for production by Strato Minis Studio.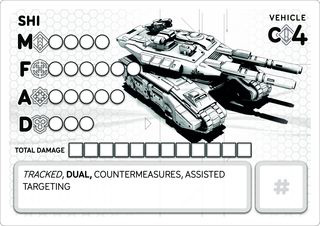 The card image is prepared to be printed on a standard printer.
Image size is 3,5″ x 2,5″ / 89mm x 63mm (600DPI) when printed in 1:1 scale.