Description
Heikegani (v2) is a resin cast mini based on a model by Wunji Lau, winner of the Allspark Challenge. This medium size walking war machine is fully compatible with weapons of H&A Hardbot System, giving it a wide spectrum of available weapons. This version is equipped with default light assault configuration weapons. The model consists of six parts that need assembling.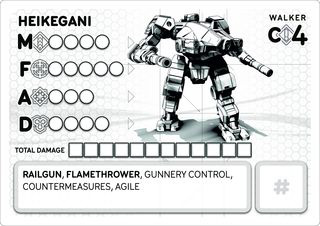 The card image is prepared to be printed on a standard printer.
Image size is 3,5″ x 2,5″ / 89mm x 63mm (600DPI) when printed in 1:1 scale.
*This option is not included in this model set