Description
This is the Hinoame "Fire Rain" variant of Heikegani. Originally developed by Kumi-Tec for Nanofoods Expansion Division, a Philippines-based customer, for their land reclaim campaign, it quickly became a popular support platform.
Highly mobile, and equipped with extended indirect fire capacity, Hinoame proves very useful in difficult terrain, where more traditional artillery vehicles are unable to operate.
Resin cast mini based on a model by Wunji Lau, winner of the Allspark Challenge. This medium size walking war machine is fully compatible with weapons of H&A Hardbot System, giving it a wide spectrum of available weapons. This variant is equipped with missile pods.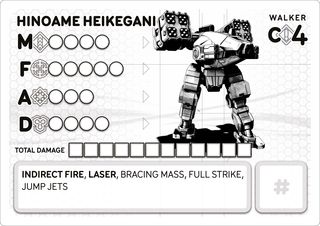 The card image is prepared to be printed on a standard printer.
Image size is 3,5″ x 2,5″ / 89mm x 63mm (600DPI) when printed in a 1:1 scale.