Description
The Hellbent V is a popular airborne IFV, with reasonable defences and a potent array of missiles.  It is typically used to rapidly deliver an infantry payload onto an objective before standing off and striking at targets of opportunity.
The model is based on Stephane Chasseloup's digital assets.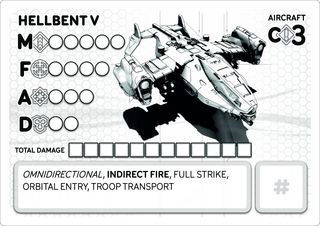 The card image is prepared to be printed on a standard printer.
Image size is 3,5″ x 2,5″ / 89mm x 63mm (600DPI) when printed in 1:1 scale.