Description
This light XLH-1 Hari hardbot is a product of Shinobi Company, a well-known producer of humanlike hardbots. It is designed to serve as heavy "replacement" to infantry and also a good looking representation of your forces. Nothing brings more excitement to the battle than true mecha with a big gun in a hand!
Despite really light frame, Hari is fully compatible with the Hammer & Anvil Hardbot System, giving a wide spectrum of available weapons. This version is equipped with a handheld six-shooter cannon.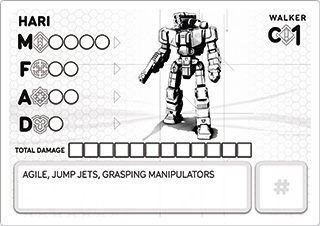 The card image is prepared to be printed on a standard printer.
Image size is 3,5″ x 2,5″ / 89mm x 63mm (600DPI) when printed in 1:1 scale.