Description
Warlock hardbot is a medium-sized companion to Rogue. Swift and still heavily armed with heavy missiles and Gatling cannon. It is fully compatible with the Hammer & Anvil Hardbot System, giving a wide spectrum of available weapons. This version is equipped with an autocannon and a railgun.
The model is based on the original design by Stéphane Chasseloup.
Converted, detailed and optimized for production by Strato Minis Studio.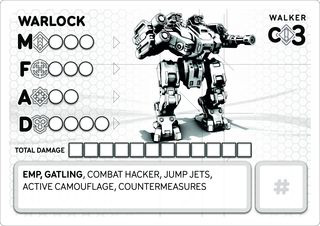 The card image is prepared to be printed on a standard printer.
Image size is 3,5″ x 2,5″ / 89mm x 63mm (600DPI) when printed in 1:1 scale.