Description
T-722 Groza Hardbot is a heavy medium-sized war machine that proved its value during many conflicts. Russian design and durability come along with additional armaments that support typical hardbot modular weaponry. Like all hardbots, Groza is fully compatible with the Hammer & Anvil Hardbot System, giving a wide spectrum of available weapons. This version is equipped with plasma projectors.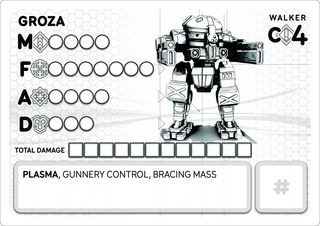 The card image is prepared to be printed on a standard printer.
Image size is 3,5″ x 2,5″ / 89mm x 63mm (600DPI) when printed in 1:1 scale.