Description
Your own personal vengeful god in the sky, now with complimentary depleted uranium rods!
P-308 Skyclaw is an unmanned VTOL drone built around a powerful electromagnetic gun, equipped with a stealth suite, recoil gyro and powerful energy cells, quickly stormed private peacekeeping markets as an effective tank hunter.

The model is based on Stephane Chasseloup's digital assets.
Converted, detailed and optimized for production by Strato Minis Studio.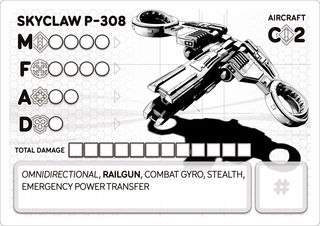 The card image is prepared to be printed on a standard printer.
Image size is 3,5″ x 2,5″ / 89mm x 63mm (600DPI) when printed in a 1:1 scale.