Description
The Měng Assault Drone is the first remote-operator combat unit of its kind in the world.  Using the vertical thrusters that are the Sino-Mongolian signature technology, it can outpace almost any other combat drone with a significant combat punch.
The model is based on the original design by Stéphane Chasseloup.
Converted, detailed, and optimized for production by Strato Minis Studio.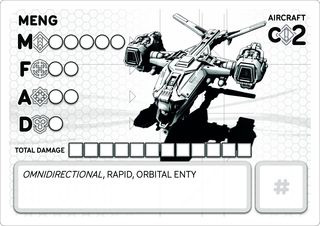 The card image is prepared to be printed on a standard printer.
Image size is 3,5″ x 2,5″ / 89mm x 63mm (600DPI) when printed in 1:1 scale.