Description
Kriegshammer is a 70 ton of raging metal. Crude, but very effective war machine equipped with massive energy weapons, and missile launchers. In short-range combat, additional laser projectors come in handy along with heavy machine guns. All real warrior needs on a battlefield!
This is a resin cast model in 6mm scale that consists of seven parts and need assembling. The miniature is sold unassembled and unpainted. Based on Bishop Steiner's design.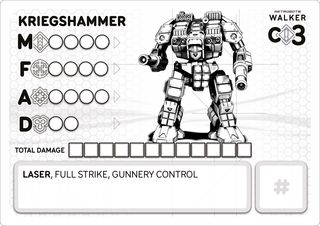 The card image is prepared to be printed on a standard printer.
Image size is 3,5″ x 2,5″ / 89mm x 63mm (600DPI) when printed in 1:1 scale.