Description
Hitman hardbot is known for its impressive speed and jumping distance, thanks to advanced engine and jump-jets systems. Equipped with medium energy cannon and a wide range of missiles Hitman will give you the edge you need on the battlefield.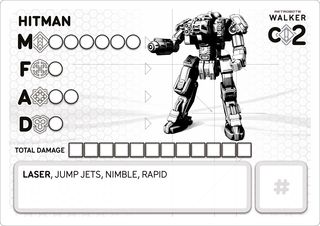 The card image is prepared to be printed on a standard printer.
Image size is 3,5″ x 2,5″ / 89mm x 63mm (600DPI) when printed in 1:1 scale.