Description
Rogue Hardbot is a heavy medium-sized war machine designed as a mixed armament walking platform. In addition, Rogue is equipped with a pair of jump jets. Of course, weapon hardpoints are fully compatible with the Hammer & Anvil Hardbot System, giving a wide spectrum of available weapons. This version is equipped with a missile launcher and a pair of machineguns.
The model based on Stephane Chasseloup's digital assets, converted, detailed, and optimized for production by Strato Minis Studio.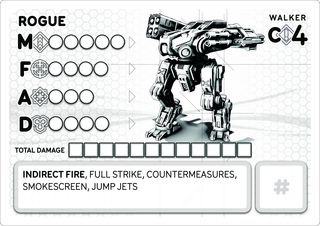 The card image is prepared to be printed on a standard printer.
Image size is 3,5″ x 2,5″ / 89mm x 63mm (600DPI) when printed in 1:1 scale.