Description
Iron Bird is the next step in hardbots development. Advanced, versatile and heavily armoured. The main armament includes energy projectors and different missile launchers hidden under armour. Iron Bird comes with two head versions and both heads are included in this set.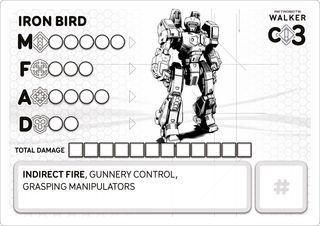 The card image is prepared to be printed on a standard printer.
Image size is 3,5″ x 2,5″ / 89mm x 63mm (600DPI) when printed in 1:1 scale.