Description
A platoon of four Gremlin tanks, designed as intimate support for the Troll, stepping in to sustain fighting power if the over-gunned Troll runs out of steam. Gerion tanks are equipped with heavy energy cannons designed to be the main firepower unit with an almost endless ammunition supply.
In addition, you get a set of tank upgrade parts to customise your vehicles.
Models based on Stephane Chasseloup's digital assets, converted, detailed and optimized for production by Strato Minis Studio.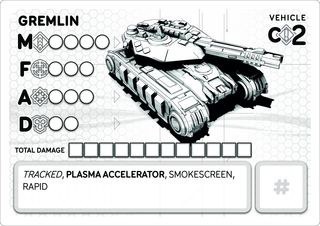 The card image is prepared to be printed on a standard printer.
Image size is 3,5″ x 2,5″ / 89mm x 63mm (600DPI) when printed in 1:1 scale.